Achilles V2 (Hoplite Armor) 10th Anniversary Limited Edition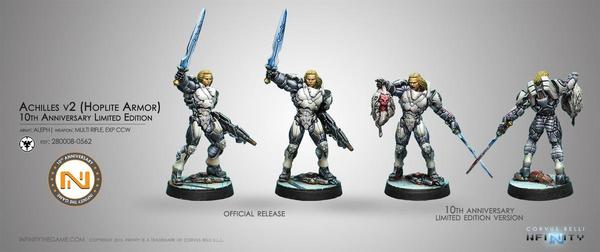 Description
This Limited Edition model box set celebrates ten years of Infinity! The pack contains two versions of the ALEPHs special character. One is the official version which will be released separately, but the other version is exclusive of this pack and available only for limited time. Achilles, the greatest Greek hero, the finest of all warriors. A superb combat machine in human form. The same special character now has a new troop profile for your ALEPH army. In his new Hoplite Armor he is tougher and more heavily armoured - the perfect spearhead of the Steel Phalanx!
Box contains:


2x Aleph Achilles V2 (Hoplite Armour) Different Poses

Model supplied unpainted, and may also require assembly.
Properties
| | |
| --- | --- |
| Race | Human, |
| Class | Warrior, |
| Faction | Aleph, |
| Game System | Infinity, |
| Unit Type | Heavy Infantry, |
| Scale | 28mm, |
| Finish | Unpainted, |
| Material | Metal, |
| Category | Science Fiction, |
| Product Type | Miniature, |
| Model Count | 2, |