Age of Conan: The Strategy Board Game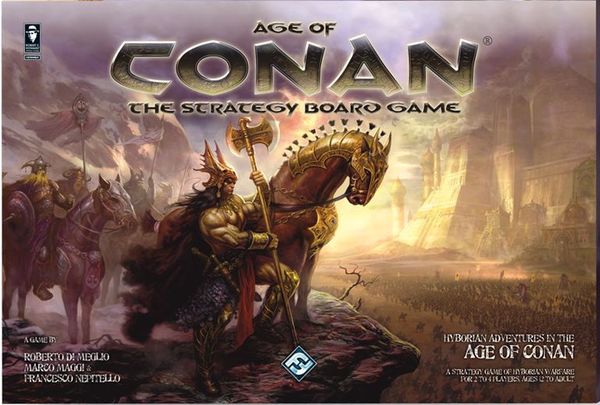 Description
Age of Conan is a board game which puts players in control of one of the major kingdoms of the Hyborian age, in the period of history well known through the tales of the adventures of Conan the Cimmerian, the barbarian hero created by Robert E. Howard.

You will fight with armies, sorcery and intrigue to make your kingdom the most powerful of its age, and to secure on your side the mightiest hero of all – Conan the Cimmerian!

In Age of Conan, you control one of the major kingdoms of the Hyborian Age – Aquilonia, Turan, Hyperborea and Stygia.

You will build up and use your armies and emissaries, you will enhance your actions with your kingdom cards, and you will try to take advantage of the adventures of Conan to increase the power and wealth of your kingdom.

The game is played over the course of three ages. At the beginning of each age, four Conan adventure cards are drawn and used to create the adventure deck. At the beginning of each adventure, players will bid to decide who will be the Conan player for that adventure; when an adventure ends, a new one is drawn and a new bid determines who will be the new Conan player.

The roll of the fate dice is used to determine the actions available to the players. The dice are rolled to form a common pool from which all players will pick their dice. Each player, in turn, will choose and use one fate die and will be able to do one of the actions allowed by that die result.

When the fate dice are all used, they are rolled again and the game continues in this way until all four adventures in the adventure deck are complete. At that point, the game will temporarily stop so that players may earn gold and take several kingdom–building actions in preparation for the next age.



Properties
| | |
| --- | --- |
| Min Players | 2 |
| Max Players | 4 |
| Min Playtime | 90 |
| Max Playtime | 90 |
| Age | 12 |
| Mechanic | Dice Rolling, Variable Phase Order, Variable Player Powers, |
| Category | Fantasy, Fighting, Novel-based, Wargame, |
| Artist | Fabio Maiorana, J. P. Targete, Matteo Macchi, |
| Designer | Francesco Nepitello, Marco Maggi, Roberto Di Meglio, |
| Product Type | Board game, |