Battlefields Basing Glue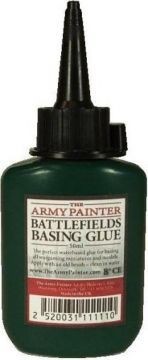 An ideal adhesive to accompany your basing materials, Army Painter Battlefields Basing Glue dries clear and works perfectly with their range of Tufts, Battlefield Basing, Flocks and Rocks. This Bottle is also fitted with a pointed nozzle, allowing precise application and minimising waste.
This Bottle contains 50ml of Army Painter PVA Glue. 
Properties
| | |
| --- | --- |
| For Ages | 18+ |
| Format | Bottle |
| Suitability | Requires Some Knowledge or Skills |