Ace Beast Rider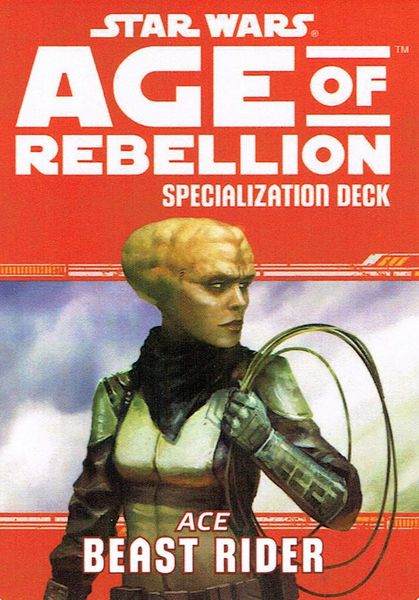 Description
From the back of the last card:

While most any being can ride a trained mount, it is the Beast Rider who can break in wild mounts and train them to perform incredible feats, even in the heat of battle.

This deck requires the Age of Rebellion Core Rulebook and Stay on Target. It includes cards for all 20 talents available in the Beast Rider specialization.



Properties
| | |
| --- | --- |
| RPG | Star Wars: Age of Rebellion, |
| Genre | Science Fiction (Space Opera), |
| Category | Accessory (dice, maps, screens, cards), |
| Artist | Adam Lane, Andrew Christensen, Andrew Olson, Cristi Balanescu, Even Mehl Amundsen, J. P. Targete, Jake Murray, Joel Hustak, Reiko Murakami, Tony Foti, |
| Designer | Corey Konieczka, |
| Product Type | Role-playing game, |