Blood Red Skies: Soviet Ace Pilot – Lydia Litvyak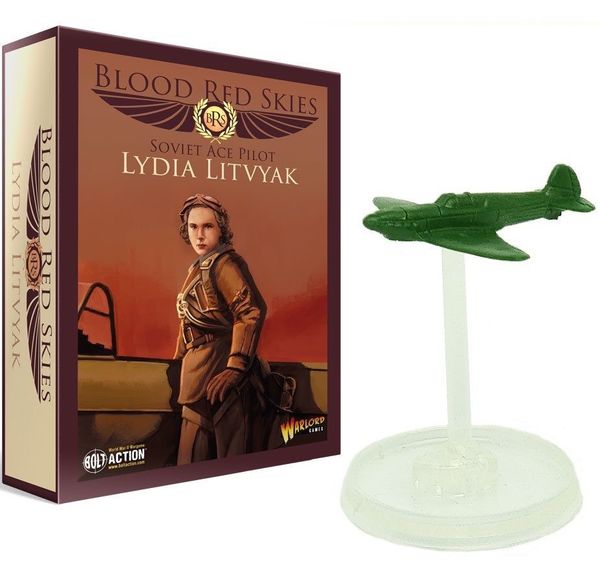 Description
This is an expansion set for the WWII aircraft miniatures game Blood Red Skies by Warlord Games and designed by Andy Chambers. This expansion includes Soviet ace pilot Lydia Litvyak and additional accessories to add to the core game.

Components included in this expansion are:
1 Yakovlev Yak-1 Fighter
1 Advantage Flying Base
1 Aircraft Card
2 Aircraft Trait Cards
2 Double-sided Pilot Skill Discs
1 Lydia Litvyak Ace Card
2 Ace Skill Cards

Lyda Litvyak joined the famed Soviet all-female 586th Fighter Regiment in 1942. She scored her first two kills three days after her arrival, becoming the first woman fighter pilot to shoot down an enemy aircraft. After shooting down the German ace, Erwin Meier, he demanded to meet her to prove he had been bested by a woman. She scored a total of 14 kills.
Properties
| | |
| --- | --- |
| Faction | BRS - Russian , |
| Game System | Blood Red Skies, |
| Unit Type | Fighter, |
| Min Players | 2 |
| Max Players | 2 |
| Min Playtime | 30 |
| Max Playtime | 60 |
| Age | 12 |
| Category | Aviation / Flight, Expansion for Base-game, Miniatures, World War II, |
| Designer | Andy Chambers, |
| Product Type | Board game, Miniature, |
| Scale | 1:200, |
| Finish | Unpainted, |
| Material | Plastic, |
| Model Count | 1, |