BN1: A Board Game All About Brighton (10th Anniversary Edition)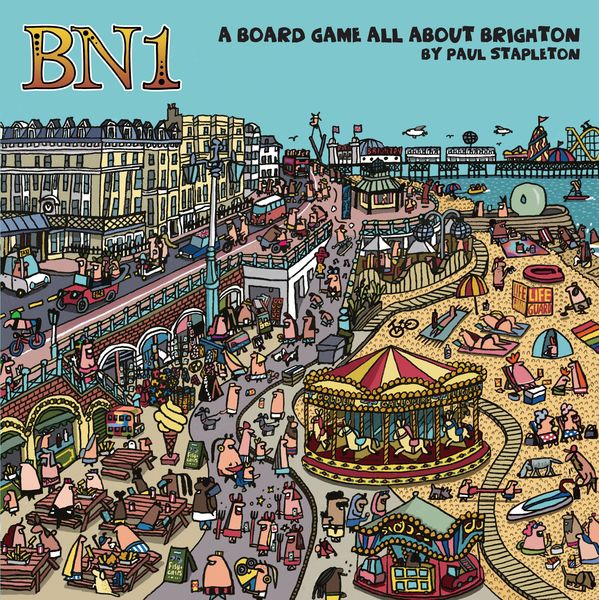 Description
You and up to three friends must travel the length and breadth of the city, looking for interesting things to do and see. And adventure can be found in the most unlikely places.

Will you hike out to the Chattri, lounge in the Pavilion Gardens or see a film at the Duke of York's? Take part in Paddle Round The Pier or watch the Pride procession? Learn about Martha Gunn or Disco Pete? Or will you go busking, picnicking, shopping and exploring until it's time to go home?

For 2-4 players, take turns moving around the labyrinthine streets of the city, having encounters, buying useful equipment and exploring destinations. Visit city events and local sites of interest on the way, scoring extra points in the process. The first player to score 50 points and get themselves back to Brighton station wins the game.

You can play the game as a roll-and-move, or with sets of action cards that are unique to each player.
Properties
| | |
| --- | --- |
| Min Players | 2 |
| Max Players | 4 |
| Min Playtime | 30 |
| Max Playtime | 90 |
| Age | 10 |
| Mechanic | Action/Event, Command Cards, Push Your Luck, Roll / Spin and Move, Take That, |
| Category | Card Game, Children's Game, Exploration, Maze, |
| Designer | Paul Stapleton, |
| Product Type | Board game, |