Bolt Action Starter Army - British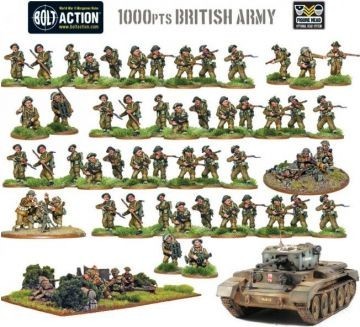 Description
The Bolt Action British Starter Army is the ideal set for anyone looking to begin collecting a British force. This set includes a full 1,000pt Bolt Action army built around a solid core of Infantry backed-up by support weapons teams, and a Crusader - this set provides you with a great fighting force with which to start playing Bolt Action.


British forces fought on many fronts - from the sunbaked sands of the African desert to the snow-covered fields of the Normandy countryside. The British forces relied upon their skill, determination and ingenuity to overcome the enemy and push their way across Europe.
This Boxed Set contains ;
- 2 x British Infantry set
- 1 x British Army 6pdr Anti-tank gun
- 1 x British Army 3in Mortar Team
- 1 x British Army Vickers HMG Team
- 1 x British Cromwell MkIV Cruiser
This Boxed Set contains a mixture of resin, metal and plastic miniatures. These models are supplied unpainted, and assembly may also be required.
Properties