Celestial Guard Old Sculpt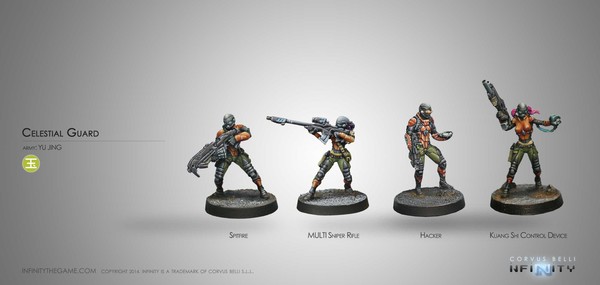 Description
The Celestial Guard are the units which guard the celestial emperor's capital, especially the Forbidden City, the great palace compound, which includes the Imperial Palace (the size of a small city), recreational pavilions, big gardens and the mansions of other members of the imperial family, noblemen and civil servants from the Yu Jing Ministry of Justice.


Because of their military assignment, the Celestial Guard are intervention troops, specialists in urban fighting. As the Forbidden City is a prioritized military objective, the Celestial Guard requires high levels of competence. To be able to serve in this regiment, candidates must be veterans, with at least three years of service in another unit and with a recommendation from their commanding officer. All its members are men and women with proven loyalty to the Dragon. The Celestial Guard is the centre of the Imperial Army. When participating in military action it receives orders directly from the Emperor, although these must be confirmed by the State's Ministry of Defence. At the same time, the Celestial Guard is part of the Yu Jing Judicial Police Special Tactics Unit. Besides their security function, they deal with police work in control operations such as vigilance, tracking and response. They have a reputation for their violent and expeditious methods. They are feared all over the Imperial State for their quasi-unlimited authority to carry out arrests, their efficient net of informants and their cruel interrogations. They are notorious for irrupting in the middle of the night into the houses of suspects and taking them to the dungeons of their headquarters from whence they never come out again, making them disappear without leaving a trace in any files or registers. Considered to be dirty and treacherous troops, the Celestial Guards make a public display of pride in their bad reputation, considering that it makes their job much easier.


Contains Four metal miniatures supplied unpainted and some assembly maybe required.


Properties