Chasseurs (Adhesive-Launcher)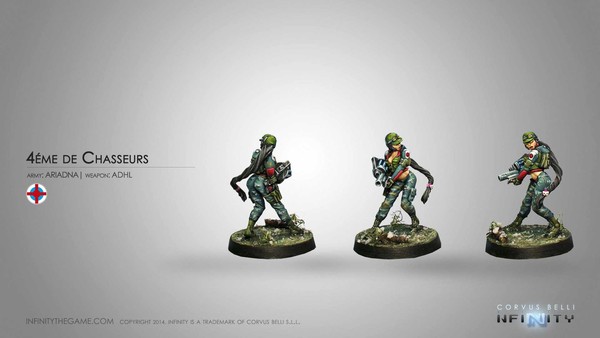 Description
The 4th Chasseurs is a Merovingian regiment operating under Special Operations Command. Its role is to undertake missions of reconnaissance and special actions in which, in total silence, they penetrate to the very heart of enemy positions. Respected as much for their qualities as fighters as for their experience, the members of the 4th Chasseurs nevertheless provoke more than a frisson of disquiet amongst their admirers for their characteristic habit of baptising their weaponry with pretty sounding French feminine names…

This troop will take care of the most complex missions that face the army of Ariadna thanks to its special abilities like Camouflage, Inflitration, or Sixth Sense L1.
Contains:
1x Chasseur (Adhesive Launcher)

Model supplied unpainted, and may also require assembly.
Properties