Coyote Warstrider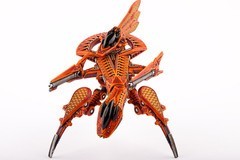 Description
The Coyote is used by the Shaltari Commanders and Heroes to wage war. Based upon the Jaguar Warstider, it forgoes the anti-air guns for a Command pod, that gives an unparalleled overview of the battlefield. The Command pod can jettison away from the main body in an emergency and fly to safety.

The Coyote is a heavily defended vehicle with the heaviest energy shields found on a Shaltari ground vehicle. The Coyote is far from defenseless, armed with Twin Gauss cannons it can devastate enemy armour with ease.

This Blister contains one resin miniature composed of 9 component parts. This model is supplied unpainted, and some preparatory work may be required as well as assembly.
 
Properties