Guild Ball: Decimate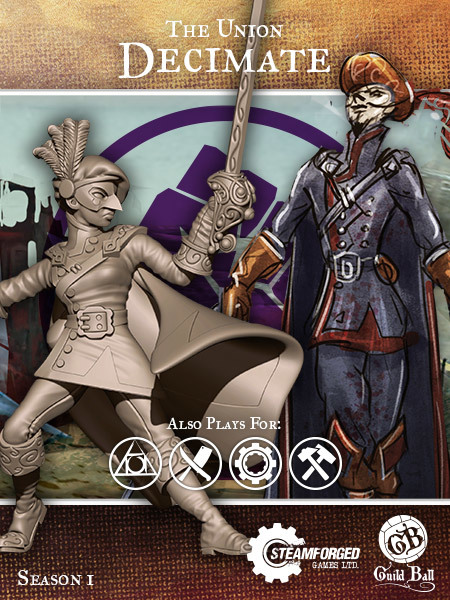 Description
The unions play style is very individual to the role and play. They have an array of strong options across attack. Their defence game, however isn't as strong due to their focus on assassin or surgical removal style play. Their strength and flexibility comes from matching the right players to the correct job. Each model is simply strong at what it does and does not require any assistance to do so.

The woman known as Decimate is properly known as Svetlana Leonid Volstov III, a princess of Erskirii nobility. Born late in to a wealthy and influential family with no hope of succession, she quickly found a far more exciting life for herself in an organised and well-funded Brewer's Guild gang. Ever ambitious, she quickly rose to a place on the Guild Ball team, becoming Decimate the duelist to her roaring fans. This all came to an end when a coup was staged within the guild by a rival gang, and Decimate was forced to flee following a failed assassination attempt. She now plays as a free agent for the Union, her flashing blades swirling in a dance of destruction.

Contains:

Models supplied unpainted, and may also require assembly.
Properties
| | |
| --- | --- |
| Faction | The Union, |
| Game System | Guild Ball, |
| Unit Type | Squaddie, Winger, |
| Race | Human, |
| Class | Rogue, Swashbuckler, |
| Category | Fantasy, |
| Product Type | Miniature, |
| Scale | 28mm, |
| Finish | Unpainted, |
| Material | Metal, |
| Model Count | 1, |