Dragon Ball Super Card Game - Magnificent Collection Fusion Hero Gogeta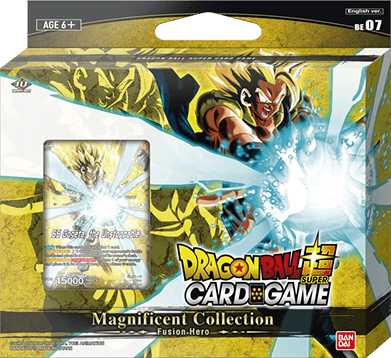 Description
Exclusive Awakened alternate-art for SS Gogeta, the Unstoppable! Only available in the Magnificent Collection -Fusion Hero- version!
An incredible Gogeta deck crafted by the game designers! Enter tournaments right away with this deck!
18 New Promo Cards! Each deck includes 2 non-foil copies for a total of 36 new non-foil cards!
5 Random Foil Cards! A special pack featuring 5 of the new cards in foil!
Use the Gogeta Structure Deck out of the box, or use the 92 included cards to build a Magnificent deck!
Deck Content:
92 Cards Total!
Silver Foil Gogeta Leader x1
Gogeta Structure Deck x1
(50 cards included)
18 New Magnificent Collection Promotional Cards x2 (36 cards included)
Random Foil Card set x1 (5 cards included)
Properties