Guild Ball: Fangtooth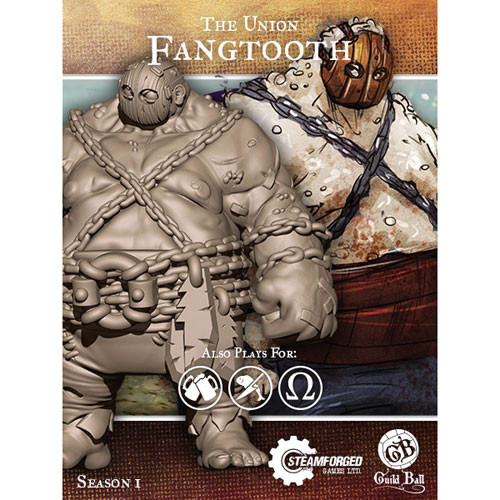 Description
The unions play style is very individual to the role and play. They have an array of strong options across attack. Their defence game, however isn't as strong due to their focus on assassin or surgical removal style play. Their strength and flexibility comes from matching the right players to the correct job. Each model is simply strong at what it does and does not require any assistance to do so.

Nobody is quite sure if the ponderous hulk known as Fangtooth is man or monster. He is a hideous sight to behold, covered in pus-filled boils and pox scars, but this is nothing compared to his horrific stench which has people retching if they stray too close...


Contains:

Models supplied unpainted, and may also require assembly.
Properties
| | |
| --- | --- |
| Faction | The Union, |
| Game System | Guild Ball, |
| Unit Type | Centre Back, |
| Race | Human, Monster, |
| Class | Berserker, Fighter, |
| Category | Fantasy, |
| Product Type | Miniature, |
| Scale | 28mm, |
| Finish | Unpainted, |
| Material | Metal, |
| Model Count | 1, |