Firstborns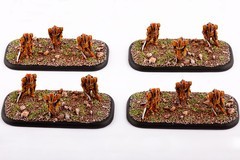 Description
Unusual amongst the Shaltari Warriors; the Firstborn still inhabit their original physical bodies. Keen to prove themselves in battle, the Firstborn are an elite cadre of close combat troops.

Armed with Warsuits similiar to the Braves, Firstborn are armed with Energy swords and Wave pistols and are experts at room clearance maneuvers.

This Blister contains 12 Metal Miniatures and 6 Resin Bases. These models are supplied unpainted, and assembly may also be required.
Properties