Fools Gold Board Game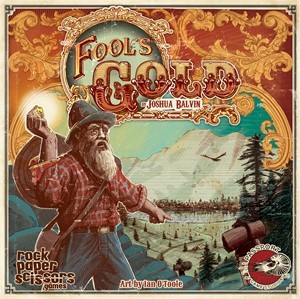 Description
The year is 1849. It's the height of the California Gold Rush, and you can smell fortune in the air… along with gunpowder, of course.
In Fool's Gold, players are rival investors in search of one thing: gold. As your prospectors explore the rivers and mines of the California frontier, they will discover rich veins of gold to plunder, and priceless jewels to pad your ever-expanding bank account. But it isn't as easy as it seems: the elements, your other investors, and the ever-present possibility of finding fool's gold can have you throwing all your money down a mineshaft.
Short of actually wandering through the mountains with a pickaxe, Fool's Gold is the closest you will ever come to prospecting for gold. A distinctive art style inspired by the American "wild west" pulls you into the experience, while its combination of collection and exploration make each game its own unique adventure.
No. of Players 3 - 5
Duration: 60 to 90 minutes