Garuda Tactbots (Combi Rifle) Old Sculpt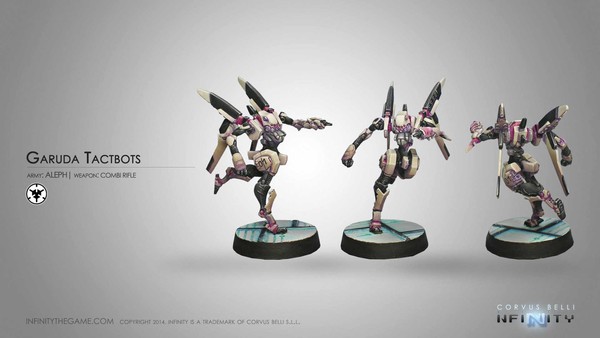 Description
Garuda, the fabulous bird ridden by the Vedic god Vishnu, has given its name to the Immediate Tactical Deployment Bots of the Special Situations Section. The Garuda is a light Remote model used for armed reconnaissance and airborne assault.


It has orbital and sub-orbital deployment capacity, able to be launched from spaceships, heavy unmanned gliders or a range of other airborne craft. The Garudas tactical profile is based on speed. Its rapid deployment to any point of an operation zone is its main feature, but once landed, speed remains a basic offensive/defensive element. Its light structure and protection make the Garuda a fragile remote, but it remains a lethal combatant. Its mimetic system, advanced fire control and great mobility confer the Garuda a high first shot kill probability, increasing its combat lifespan. If a quick kill is needed, the Garuda Tactbot is the best option to swiftly end any combat.


Contains:
1x Garuda Tactbots (Combi Rifle)

Model supplied unpainted, and may also require assembly.
Properties