Malifaux: Hoffman - Avatar of Amalgamation (M2E)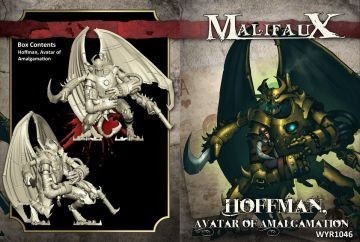 Description
C. Hoffman combines with other constructs to become the Avatar of Amalgamation, becoming more of a combat variant. Avatar Hoffman loses some of his aura resistance, losing some of his control spells but gains better attacks.


Guild Box Set, containing one 32mm 'heroic' scale miniature made of high quality Plastic. Will require some preparation and assembly
Contains:
Models:
Hoffman, Avatar of Amalgamation

Models supplied unpainted.
Properties
| | |
| --- | --- |
| Faction | The Guild, |
| Game System | Malifaux 3rd Edition, |
| Unit Type | Master, |
| Race | Cyborg, Golem, Human, Robot, |
| Category | Fantasy, Horror, Pulp, Steampunk, |
| Product Type | Miniature, |
| Scale | 32mm, |
| Finish | Unpainted, |
| Material | Plastic, |
| Model Count | 1, |