Ocelot Warstrider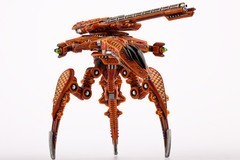 Description
The Ocelot is similar to the Jaguar, however where the Jaguar has a flexibility of weapons; the Ocelot is armed with only one. The Particle Cannon is a devastaingly powerful weapons. Able to destroy even the heaviest of tanks at great range, this is perhaps the most powerful ground based weapon thet Mankind has come across so far.
The Ocelot is a Heavy Vehicle killer. Used to pick of the heaviest most dangerous enemy vehicles, the Ocelot sits at the back of the battle lines.
This Blister contains one resin miniature composed of 10 component parts. This model is supplied unpainted, and some preparatory work may be required as well as assembly.
Properties