Malifaux: Open Graves (M2E)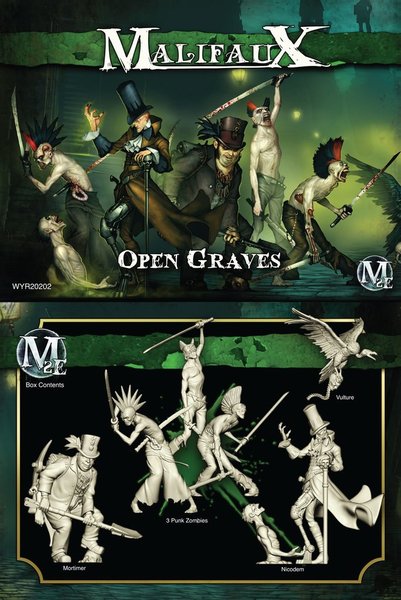 Description
This necromancer is the Zombie Horde Lord. Able to buff those minions around him and raise extra models in to the game with ease. Not as offensive as others or dangerous in combat, he excels and drowning his opponents in waves of zombies and undead legions.


This Resurrectionist Box Set, containing six 32mm 'heroic' scale miniatures made of high quality plastic, Stat Cards and six Upgrades.


Set Contains:
Models
Nicodem
Vulture
Mortimer
3 Punk Zombies
Stat Cards
Nicodem
Vulture
Mortimer
3 Punk Zombies
Upgrade Cards
Undertaker
Reaper Grin
My Favorite Shovel
Love Thy Master
Shadow Embrace
Necrotic King
This is the second edition box set.
Models supplied unpainted, and may also require assembly.
Properties
| | |
| --- | --- |
| Faction | Dead Man's Hand, The Ressurrectionists, |
| Game System | Malifaux 3rd Edition, |
| Unit Type | Enforcer, Henchman, Master, Minion, |
| Race | Human, Zombie, |
| Category | Fantasy, Horror, Pulp, Steampunk, Undead, |
| Product Type | Miniature, |
| Scale | 32mm, |
| Finish | Unpainted, |
| Material | Plastic, |
| Model Count | 6, |