Horror Realms (Pathfinder)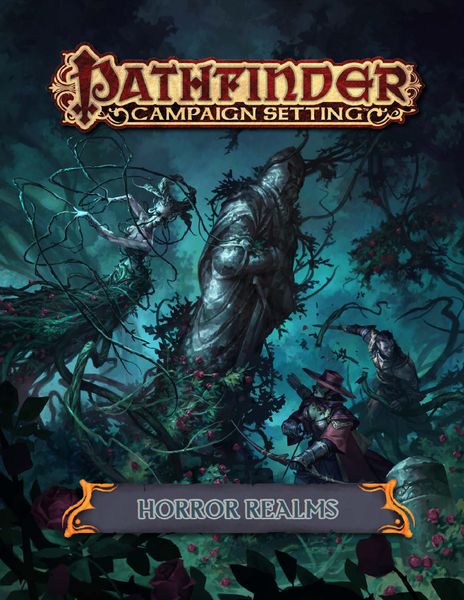 Description
Horrors Await Within

Terrors beyond compare lurk in the world's shadows, yet the bravest of Golarion's heroes must face these nightmares again and again. Pathfinder Campaign Setting: Horror Realms helps bring the spine-chilling terrors presented in Pathfinder RPG Horror Adventures to the Inner Sea region and beyond, presenting new rules, detailed ghastly locations, and unnerving character options for your campaign. Inside the pages of this book, you'll find:


Information on how the eerie corruptions introduced in Horror Adventures can be incorporated into the world of Golarion, along with details on three new corruptions to vex your players or empower your villains.
Seven locations ripe for exploration in horror-themed campaigns, including haunted villages, islands rampant with cannibals and necromancers, and more!
Numerous horror-themed class options for characters, including rules for corrupted animal companions, spirits from the depths of space, exploits of the sinister Outer Planes, haunting bardic performances, aberrant eidolons for summoners, and more!
Full details on three new categories of variant haunts* incursions into this reality from the First World, miraculous resonances from the gods, and technological surges.


Pathfinder Campaign Setting: Horror Realms is a perfect companion for Pathfinder RPG Horror Adventures, and is intended for use with the Pathfinder Roleplaying Game and Pathfinder campaign setting, but can easily be used in any fantasy game setting.



Properties
| | |
| --- | --- |
| RPG | Pathfinder Roleplaying Game (1st Edition), |
| Genre | Fantasy (High Fantasy), Horror, |
| Category | Sourcebook (rules/options to enhance play), |
| Artist | Caio Monteiro, Christian Schob, Diana Martínez, Emmanuel Julian Madail Monzon, Hazem Ameen, Leonardo Borazio, Michal Ivan, |
| Designer | David N. Ross, James Jacobs, Linda Zayas-Palmer, Patrick Renie, Thurston Hillman, Tim Hitchcock, |
| Product Type | Role-playing game, |