Malifaux: Relic Hunters (M2E)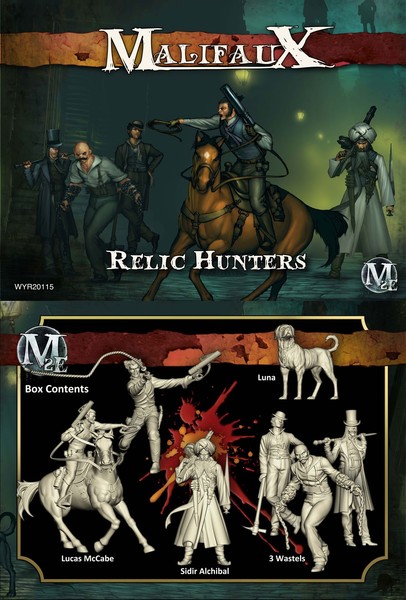 Description
Lucas McCabe is one of the finest riders around and is the first master that can get off his horse at will, but can never get back on his trusty mount if he does. On his horse he has the fastest pit master in the game and loves unloading his net gun on as many people as possible to make them slower or paralyse them. He is the leader of the Relic Hunters, who spend their days chasing leads, trying to acquire rare artefacts and desirable objects, with only one thing on their mind, Loot. Not only do these Relic Hunters explore for treasure, they are well known for kidnapping unwitting targets and holding them for ransom, while taking their valuables as the stand helpless. Lucas Macabe and his gang can fight for either the Guide or the Ten Thunders factions and if you desire speed, is the perfect choice for your collection.


The Ten Thunders are a mystery to the residents of Malifaux, their origins date back to the Three Kingdoms back on Earthside and are shrouded in secrecy and legend, though completely twisted and tainted most of their history is lies. Membership is exclusive to only those of the Three Kingdoms, sacrifice is demanded over capture then to reveal its secrets. Even the Ten Thunders' locally hired thugs do not know how their employers have been able to reach across the Breach. While in Malifaux, there is no law above Guild Law. Although these laws do bring some protection to the citizens, order is prized above mercy; because ultimately it is order that keeps the gears of the soulstone trade turning. A world without order is a world without profit, and The Guild always turn a profit.


A Guild/Ten Thunders Box Set, containing seven 32mm 'heroic' scale miniatures made of high quality Plastic.


This box Set Contains:


Models
Lucas McCabe (On Foot)
Lucas McCabe (Mounted)
Luna
Sidir Alchibal
3 Wastrels
Stat Cards
Lucas McCabe (On Foot)
Lucas McCabe (Mounted)
Luna
Sidir Alchibal
3 Wastrels
Upgrade Cards
Badge of Speed
Glowing Saber
Elixir of Life
Strangemetal Shirt
Promises
Barbs
By Your Side

This is the second edition box set.
Models supplied unpainted, and may also require assembly.
Properties
| | |
| --- | --- |
| Faction | The Guild, The Ten Thunders, |
| Game System | Malifaux 3rd Edition, |
| Unit Type | Enforcer, Henchman, Master, |
| Race | Dog, Human, |
| Class | Fighter, Gunslinger, Warrior, |
| Category | Fantasy, Horror, Mounted, Pulp, Steampunk, |
| Product Type | Miniature, |
| Scale | 32mm, |
| Finish | Unpainted, |
| Material | Plastic, |
| Model Count | 7, |