Shadow over Westongrove Manor - Culinario Mortale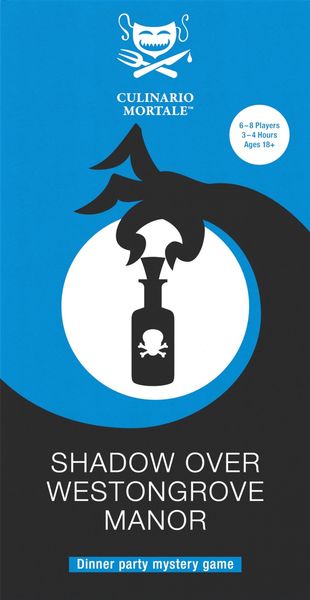 Description
The family patriarch and rich businessman Anthony Westongrove had invited his children to the grand family manor to celebrate his 70th birthday yesterday.

All of the family members arrived at the manor on Friday afternoon, and an extravagant feast was served at 7:00 pm. It promised to be a wonderful evening …

But the birthday celebration came to an unpleasant end when Anthony was rushed to the hospital during the night after falling very ill. Concerned, the entire family stayed at Westongrove Manor and waited for the patriarch to make his return. Today, on Saturday afternoon, Anthony was finally released from the hospital. His unconsciousness turned out to be caused by poisoning. It would appear that one of the guests was after his blood.

Anthony wishes to resolve the matter within the family, which is why everyone who was present has come together again this evening. The question is: What happened yesterday night? Who tried to kill Westongrove?

What is a murder mystery game?

You and your guests slip into the roles of the main suspects of an exciting murder case. The objective of the game is to convict the perpetrator – one of the people sitting with you at the table. This can only be achieved if the players discuss the course of events amongst themselves and compare their experiences of what happened. But be careful: Each character (including you!) has their own dark secrets which they'd be better off keeping to themselves.

You all gather in the wake of the crime and attempt to piece together your memories, with the aim of identifying the perpetrator. In each round, you recall more and more about the circumstances of the crime, as each round deals with a different period of time from the evening the crime was committed. At the end, everyone votes on who should be handed over to the police as the suspect.

Culinario Mortale is a highly interactive game. There are only a few rules, and no pre-prepared dialogue. The focus is on working through the puzzles and discussing the events together.

Alongside a well-structured game manual, each game contains game booklets for between five and eight characters (the number of players for each game can be found on the packaging and here on our website). In the game booklets, each guest will find their personal clues and a description of their role. Each game booklet also includes a brief overview of how the game works. As such, all players can jump right in. The support code included with your Culinario Mortale game will allow you to download the role descriptions in advance from our website in PDF format, and easily send them to your guests via email.

GAME CONTENT:
1 Game Manual, 8 Game Booklets, 1 Incident Booklet (includes of prologue, incidents, solution), 8 name badges, 1 support code

— description from the publisher.



Properties
| | |
| --- | --- |
| Min Players | 6 |
| Max Players | 8 |
| Min Playtime | 120 |
| Max Playtime | 240 |
| Age | 18 |
| Mechanic | Hidden Roles, Role Playing, Scenario / Mission / Campaign Game, Storytelling, |
| Category | Deduction, Murder/Mystery, Real-time, |
| Artist | Florian Bischoff, Jens Kauffmann, Takeshi Otani, |
| Designer | Florian Bischoff, Jens Kauffmann, Takeshi Otani, |
| Product Type | Board game, |