Shadows of Redchapel - Seamus Box Set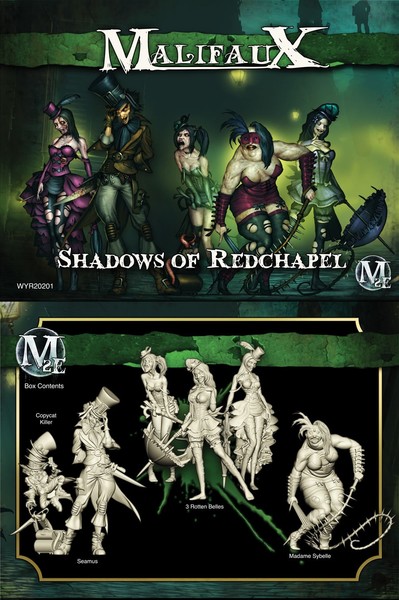 Description
Cross Jack The Ripper with the Mad Hatter, walking the dark alleys of Malifaux while whistling sinisterly. Seamus is one of the pit masters for the Resurrectionists, a master of playing the angles, he will be taking a deadly shot with his pistol and then just to step into the shadows and reappear half way across the board.
Members of his gang include;
The Copycat Killer, Seamus's totem, able to bring him his hat back, and it's got a very nice gun for shooting low defence models.
Madame Sybelle, the most likely henchman for Seamus as she causes many Wp in duels, she can speed up and rearrange Rotten Belles and she can also create very serious de-buffs for enemy models, and shield friendly ones.
And 3 Rotten Belles, which are some of the most efficient models in the game. The Rotten Belles Lure is nearly impossible to resist and can pull enemies into position for the rest of your gang to take out. Also they are a great way to heal Seamus., as you don't want to lose the boss.
The Resurrectionists are about all things undead, and tend to favour summoning new models and raining debilitating effects upon their opponents. The summoning, combined with having lots of wounds and a lot of damage-mitigating abilities, make them very hard gang to shift. This is a great addition to any Malifaux Ressurrectionists gang.
Contains one Seamus Crew Box Set. Models are supplied unpainted, and some preparatory work may be required as well as assembly.
Properties