Monastery of Tuath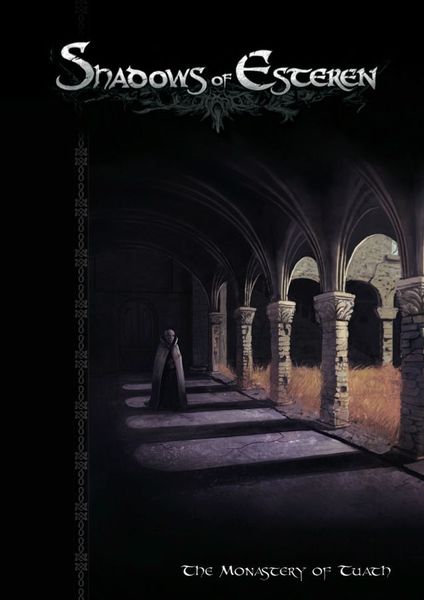 Description


From the back of the book

"The Vale of Thoir? It is just on the other side of the border. From Dearg, you can go west to reach it through the Pass of Lantrecht... But why would you want to go there? It is a grim place and its lord is infamous for being a bloodthirsty tyrant. Oh! Of course! You want to meet the Tuathian Brothers and receive their miraculous healing! Then, good luck foreigner, may the Creator guide your steps..."

The Monastery of Tuath is a supplement for the Shadows of Esteren series intended for Game Leaders. Contents include:

- The Temple and Religious Life:
A game aid detailing the commitment to one of the clergy's six orders, the organization of spiritual life, and an optional rule, the "Six Vows", with its possible impact on the Characters.

- The Monasteries of the One:
An in-depth look at the daily life of the monks and the organization of the monasteries.

- The Monastery of Tuath:
A religious institution of the Temple in a Gwidrite valley, near the Talkéride border, described along with all its inhabitants.

- Vengeful Words:
An investigation scenario in the Monastery of Tuath, inspired by The Name of the Rise: a thrilling adventure set behind closed doors that will lead the Characters to uncover several sinister secrets.

- A Map of the Monastery of Tuath:
A color map depicting the monastery where the "Vengeful Words" adventure is set.

- A Set of Aid Sheets:
A deck of Clue Cards and game aid sheets for "Vengeful Words", including technical sheets to optimize the gaming experience for both Leaders and Players.



Properties
| | |
| --- | --- |
| Category | Sourcebook (rules/options to enhance play), |
| Artist | Christophe Bouvet, Fred Pinson, Nicolas Jamme, Olivier "Akae" Sanfilippo, Rémi "Remton" Le Capon, Sandrine Malus, Yvan "Gawain" Villeneuve, |
| Designer | Aldo "Pénombre" Pappacoda, Guillaume "Ikaar" Vasseur, Joëlle "Iris" Deschamp, Ludovic "Elenyl" Monnier-Ragaigne, Nelyhann, |
| Genre | Fantasy (Low Fantasy), Horror, |
| RPG | Les Ombres d'Esteren, |
| Product Type | Role-playing game, |