Blood Red Skies: P-51 Mustang Squadron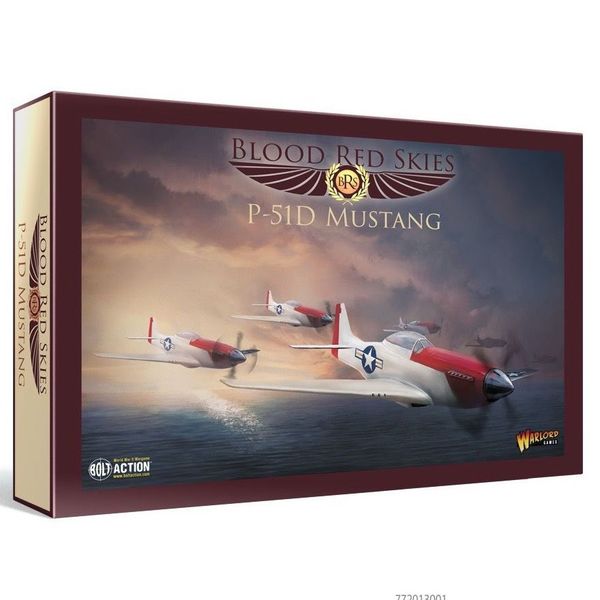 Description
This is an expansion set for the WWII aircraft miniatures game Blood Red Skies by Warlord Games and designed by Andy Chambers. This expansion includes a squadron of USA P-51 Mustang fighters and additional accessories to add to the core game.

Components included in this expansion are:
6 P-51D Mustang Fighters
6 Advantage Flying Bases
1 Aircraft Card
6 Aircraft Trait Cards
6 Double-sided Pilot Skill Discs
1 Aircraft Markings Sticker Sheet
3 Action Cards

The introduction of the Merlin engine transformed the initially mediocre P-51 Mustang into a world-class fighting machine with the iconic P-51D, all but supplanting other types of fighters used by the United States Eighth Air Force in Britain. By May 1945, Mustangs had flown 213,873 stories and claimed 4,950 enemy aircraft destroyed.



Properties
| | |
| --- | --- |
| Faction | BRS - American, |
| Game System | Blood Red Skies, |
| Unit Type | Fighter, |
| Min Players | 2 |
| Max Players | 2 |
| Min Playtime | 30 |
| Max Playtime | 60 |
| Age | 12 |
| Category | Aviation / Flight, Expansion for Base-game, Miniatures, World War II, |
| Designer | Andy Chambers, |
| Product Type | Board game, Miniature, |
| Scale | 1:200, |
| Finish | Unpainted, |
| Material | Plastic, |
| Model Count | 6, |