X-Wing: Slave 1 Expansion Pack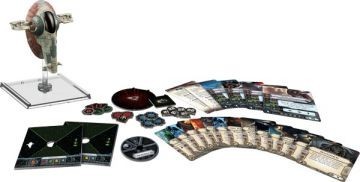 Description
The Infamous Slave 1 is a dreaded sight amongst the scum and villainy of the galaxy. Piloted by the ruthless bounty hunter Boba Fett, Slave 1 travels the galaxy hunting for prey. As the rebellion against the Empire takes grows stronger, Slave 1 is called upon by Imperial Commanders to help put down insurgents. A modified prototype of the Kuat Drive Yards Firespray 31 patrol ship, Slave 1 has been extensively upgraded over the years by her owners. Fitted with heavy armour plating and a versatile array of weapons, Slave 1 is as formidable as her pilot.

The X-Wing: Slave I Expansion Pack contains the following:

- 1 Exquisitely detailed Slave 1 model.
- 4 Pilot Cards.
- Tokens.
- New rules and a new mission to further expand your games of X-Wing.

This is not a complete game experience. A copy of the X-Wing Miniatures Game Core Set is required to play.
 
Properties