Blood Red Skies: Yakovlev Yak-1 Squadron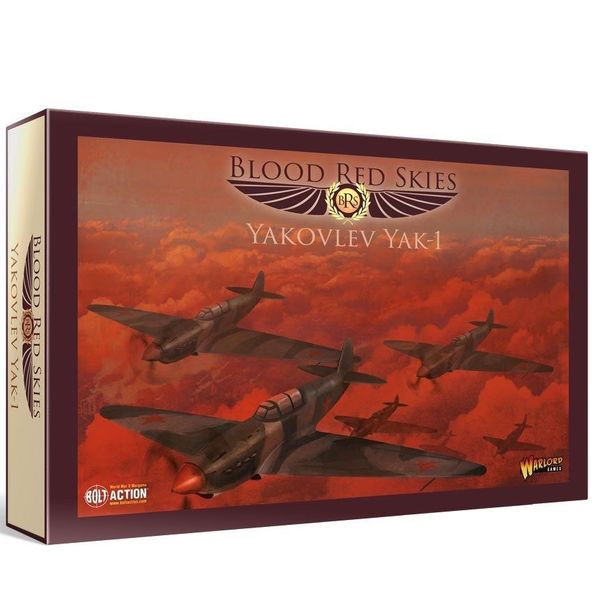 Description
This is an expansion set for the WWII aircraft miniatures game Blood Red Skies by Warlord Games and designed by Andy Chambers. This expansion includes a squadron of Soviet Yakovlev Yak-1 fighters and additional accessories to add to the core game.

Components included in this expansion are:
6 Yakovlev Yak-1 Fighters
6 Advantage Flying Bases
1 Aircraft Card
7 Aircraft Trait Cards
6 Double-sided Pilot Skill Discs
1 Aircraft Markings Sticker Sheet
3 Action Cards

The Yakovlev Yak-1 entered service in 1940, a fast and well-armed fighter. With wooden wings and a composite structure, it was a very reliable and easy to maintain aircraft. Although its production suffered quality issues due to the Axis invasion, the Yak-1 always remained popular with front line pilots.



Properties
| | |
| --- | --- |
| Faction | BRS - Russian , |
| Game System | Blood Red Skies, |
| Unit Type | Fighter, |
| Min Players | 2 |
| Max Players | 2 |
| Min Playtime | 30 |
| Max Playtime | 60 |
| Age | 12 |
| Category | Aviation / Flight, Expansion for Base-game, Miniatures, World War II, |
| Designer | Andy Chambers, |
| Product Type | Board game, Miniature, |
| Scale | 1:200, |
| Finish | Unpainted, |
| Material | Plastic, |
| Model Count | 6, |